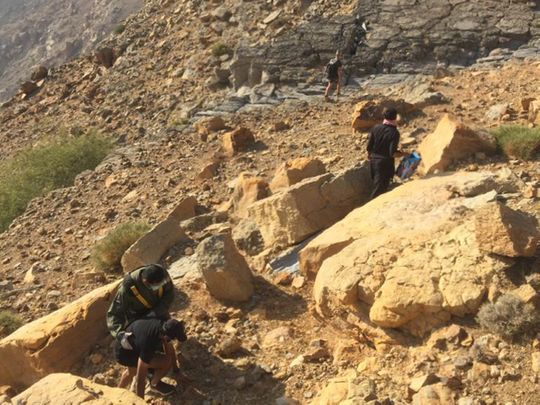 Ras Al Khaimah: The search and rescue crew of Ras Al Khaimah Police's Air Wing rescued an Asian man in his 30s, who was injured while climbing the mountains in the Raala Al-Yaqoubia area.
Colonel Saeed Al Yamahi, head of the Air Wing Department of Ras Al Khaimah Police, said that as soon as the report was received at Ras Al Khaimah Police Operations Room, the search and rescue team rushed a helicopter of Ras Al Khaimah Police's Air Wing to the location. Soon, the area was surveyed and within 20 minutes of the survey the injured person was located. He had suffered a fracture in his foot while climbing the mountain. He was immediately given first aid and was moved to Saqr Hospital in Ras Al Khaimah for treatment.
Colonel Al Yamahi has appealed to Emiratis, residents and tourists to avoid the extremely rugged mountainous areas while climbing and to stick to areas that are closest to the roads. Ras Al Khaimah Police have also urged tourists and residents to take the services of experienced guides while going on trekking.